You don't need to go looking very far to find the best tools to help find winning products to sell on your store. Over the last few years I've used well over 30 different tools that claim to offer the best way to find winning products and while some come and go, here are 27 of the very best.
We tested all of these platforms before they were featured below.
Remember, you won't get a plate of the best winning products handed to you. You must create ads, run traffic and ultimately try to create a winning ad and product yourself. What works for someone else, might not work for you.
You can have the best product in the world but without the right audience and advert it can all be for nothing.
Before calling drop shipping a scam, I suggest you keep trying.
27+ Tools To Find Winning Products
Some of these tools are free, most are premium of some sort. Others offer both. We've signed up and tested all of these platforms before they've been featured on this blog.
These are in no particular order aside from our top 5 tools I actually use myself daily.
One of the best web platforms for finding winning products is called Sell The Trend and offers a one stop shop for finding Aliexpress, Amazon and Shopify trending products, hot products, new products and hidden gems.
Related: Read Full Review
You can access all Shopify stores and view estimated store traffic, daily orders, technology spend and all their best selling products. You can also view their social media profiles and with one click view the store, the products on Aliexpress and even favorite stores for future lookup.
They have a unique system called, 'Nexus.' This game changing technology will show you the best things to sell online in a flash and will provide trend reports, total stores selling the same product and much more.
Other features include spying on Facebook Ads, audience builder, video creator software, engagement rating calculator and a discovery machine.
Video tutorials are included to help you get started.
2. Intelligyence
Intelligyence has been around for years and has been used by thousands of marketers looking for the best winning products on successful Shopify stores.
You can monitor over 500,000 stores and 2 million products and it allows you to filter search results to find products that are in-demand and actually selling through estimated daily sales volumes.
You can then click on products and go directly to Aliexpress where you can right click and import them into your own store.
You can also see Facebook and Google Ads that stores are running. You can also see Amazon and eBay too.
Start your free trial. ($29/mo)
3. Wish Inspector
While most of the tools on this list focus on Aliexpress, this tool focuses on Wish.com
Wish Inspector is a desktop-based application available on both Mac and Windows OS that helps you find winning products from their platform that you can then add to your store.
The software lets you import products with their variations, descriptions etc into your store fast.
Wish Inspector offers two features including "Research feature" and the "One click import." It might take you some time to get use to the green and grey color scheme, quite old fashioned.
The software comes with a one-time fee of $77 for one device and $87 for 10. Most people opt for the 10 licenses as they can use on Mac and their work desktop.
4. eCom Profit Hub
This is a website that lists real time products based on other product research tools, so rather than paying for each tool, you will find all the products inside this platform.
Rather than spending $300+ per month for all the other research tools listed below, you could spend a one time low monthly fee of $29 and get access to products from all tools.
After testing this platform for a number of days, it's definitely a wise investment for any dropshipper looking for high quality winning products.
Each product comes with additional information such as engagement, FB ads data, links, estimated profits, targeting and any product videos.
All subscriptions come with a 7 day money back guarantee, allowing you to trial these service with no obligation.
5. Thieve.co
Thieve is one of my favorite tools for finding winning products from Aliexpress. It's completely free currently, you just need to create an account and they make money by including their affiliate link in any products displayed.
Products are curated to the site by other members and upvoted by others if they are liked by them.
It's definitely one the more glamorous tools that was product of the day on Product Hunt.
6. eCom Key
eCom Key is another all-in-one dropshipping platform that provides you with both winning products, research tools and training videos to help find the best products.
They offer thousands of products via their complex algorithm that trakcs data-points and consumer trends, before scraping AliExpress to find winning products.
Additionally there's an inetgration with Shopify that guesstimates the monthly traffic, average product price, estimated monthly orders, revenue and best selling products.
There's a large number of training videos, at the time of writing this there were over 50+ in-depth videos covering topics on all things related to dropshipping.
This platform is one of the cheapest out there, at only $12.99 per month. This is the beta test price so may increase or decrease as time goes on.
7. eCom Trends
Another new service that's currently limited to only 250 members per month, is eCom trends, that offers predictive analysis to discover products before they're trending.
Receive, 10 exploding trends direct to your inbox each month, allowing you to capitalize and get notified before trends happen.
To get in, you'll need to be one of the chosen candidates, who have proven success online, but the price is only $7 per month or $130 per year.
Additionally you'll get access to insights for each trend and guidance on how to implement them. Lastly you'll get access to previous reports (1month) for monthly members.
8. Alishark
Alishark is another one of the high quality winning product tools on the market that many people rave about. Their servers are regularly updated throughout the day showcasing live trending products.
Currently you can search Shopify and eBay stores.
You get unlimited searches and can view stats such as sales, likes, price tags, reviews.
You can also easily find competitors that are selling the same products and even their ads too.
Start your 2 day trial for $1.
9. eComHunt
eComHunt is another product curation tool similar to Thieve.co which offers both a free and premium version. If you do upgrade you also get access to webinars too which costs $29/month.
You get limited free products but you do get access to the important information such as analytics, profit, commitment, links, Facebook Ads, video produced and Facebook targeting.
The search engine is powerful and includes the sales pages of products too.
10. ProductListGenie
Product List Genie is another popular product research platform that offers one push technology to your Shopify store. You can add all product information and images within seconds.
There is over 10,000 products on the platform, with an average of 40 new products added per week. This isn't ground breaking compared to other platforms but it is quality over quantity.
This is more than just a product research platform, you also get access to view ad campaigns, trends, research audiences and spy on ads. You also get done for you FB and IG ads.
Lastly you can use their own videos they create for you.
The monthly fee is quite high, $277 per month but does offer more features than any other platform.
11. AdSpy
Ad Spy allows you to spy on Facebook and Instagram Ads. Their platform currently has over 38 million Ads and is the largest collection on the planet. You can then search popular stores and view the advertisements they are running.
This tool is one of the best Facebook ad spy tools in the market. Lots have come and gone but Ad Spy is still active and has been for the last couple of years.
You can search by ad text, site type and whether the ad includes any affiliate links or specific store URLs.
The best features are the ability to search by demographics and audiences such as gender, ages, daily likes, total likes, technologies and interests.
Currently costs $149/mo. You can checkout Ad Spy.
12. ShopGenius
ShopGenius has old fashioned looking website, especially the sales page however don't be put off by first impressions. This platform allows you to find Shopify Facebook Ad examples within seconds using their sophisticated database lookup.
You can see eCommerce adverts from a whole range of stores and with their filters you can search by geographical location, gender, device type, placement type, date posted, last seen and media type. You can also preview the landing page and Facebook page to read comments.
You can then use these Facebook Ads to find winning products that have lots of likes, comments and shares.
The platform isn't as smart as AdSpy but it is a lot cheaper.
The fully fledged plan costs $39.99/mo with a 24 hour trial.
13. HotProducts
HotProducts.io has been around for quite some time now and claims to offer the #1 software tool to find hot winning products to sell on your online store.
Their platform simplifies product research by providing daily trending products. Currently there are 800+ products in the catalog with an average of 40 added every week.
They also offer tools such as audience building, engagement calculators and other analytical tools.
Some of the other features include one click import into your store, Facebook video ad generator and daily email alerts. There may be a question around saturation given they have 950+ members who are all accessing the same products.
Regardless if you want to check it out you can with a 7 day money back guarantee.
Pricing ranges from $27, $37 and $67 per month for the elite plan.
14. Niche Scraper
Nicher Scraper is another web based platform that helps you to find winning products using their powerful niche research bot. The platform is very simple and looks a lot nicer than some of the other tools on this list. It's clear and easy to use.
Their product scraper searches Aliexpress and all Shopify stores and provides insights such as orders, competition and pricing information to help you.
Their platform also offers a hand picked selection for better trending products, store analysis and also a video ad maker tool.
There is also a one click import into Shopify.
Joining is free but you get limited access. Pro costs $39.90 per month.
15. DropshipMe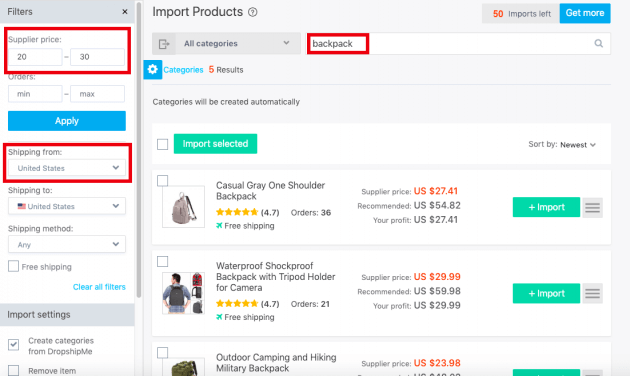 Dropship.me is a free plugin for WooCommerce and AliDropship that allows you to find the best selling products and then import them with 1 click from selected suppliers.
Their catch line is focusing on making money, not searching and editing products.
Their platform currently has over 50,000 winning products you can add to your store.
Pricing works on number of imports. Your first 50 are free, then 100 products is $29/one time. 1000 products costs $199 one time.
You can see how expensive this plugin could get for larger stores, but for small eCom stores it's cheap.
16. AliHunter
AliHunter allows you to analyze and find winning products on Aliexpress in seconds. You can also spy on other Shopify stores to see what's working for other people to research and find your own similar products for similar success.
Winning products show price, total orders, total reviews, ratings, wishlists, shipping fees and supplier details, as well as photos, price history and orders history. Price trends also include location of sales to find the best countries to target.
There are plenty of filters for finding products and there is 1 click buttons to find products on Aliexpress.
You can also check what apps and theme a particular store is using too.
The app is currently free and makes money through Aliexpress affiliate links.
17. Pexda
Pexda is one of the oldest winning product tools on the market and has spent years advertising their services. Their website looks pretty dated but the platform on the backend is quite robust.
You can use their curated list of winning products to find winners. They also offer Facebook Ad copy that's working for them that you can use too. You can also uncover target audiences that work best for every product.
Pexda includes information from Aliexpress, eBay, Shopify, Amazon, Facebook Ads and Retargeting.
Pricing is currently $14.95 per month, $24.95 per month or $99.95 per month.
There is currently a $1.95 trial for 14 days but products are delayed by 3 days.
The ultimate package claims to offer special products.
18. Commerce Inspector
Commerce Inspector is more of a competitor analysis platform but they do provide winning products and hot products that you can sell on your own drop shipping store.
You can also track competitor sales figures, traffic insights and product stats such as images, prices and social signals.
You can see which products are selling the best (estimated) and then find the actual supplier and list these on your own drop shipping store.
You can also reveal information such as a stores theme, apps and estimated traffic/sales.
There is a free version with full access costing $49/mo and Pro $499 per month.
19. E-Sniper
E-Sniper is a new platform that offers the ultimate toolkit to start making a profit drop shipping. You get access to tools including AliSniper, ViralSniper, InstaSniper and ShopSniper.
AliSniper is a way to find winning products based on niche, daily sales, ratings and you can one click import into your store.
ViralSniper allows you to find hot new products that are converting well. You get demographics and marketing strategies.
InstaSniper allows you to find the most relevant influencers based on niche, location and engagement rates to reach out to them.
ShopSniper lets you find trending new products across every Shopify store and discover new products with low competition.
Pricing is currently $24.99 per month with a 3 day trial costing $1.
20. Dropship Stack
This is another platform that gives you access to winning product ideas within minutes, backed up by a 2 day trial for only $1.
After this, it costs $15 per month or $25 per month for the pro plan. Pro offers no limits and is one of the best options for full time, veteran dropshippers.
Their platform features handpicked curated products with real suppliers, ad examples and more. You can view competitors and sourcing sites.
There's a Facebook video ad generator as well as access to product stats using AI by looking at price, orders, growth rate, payment options etc.
Lastly there is a trneidng product IQ which allows you to predict when to get in or out of selling a product, as well as top countries and store competition analysis.
21. Dropship Hunter
Dropship Hunter doesn't have a flash website, but they do claim to offer the best trending and winning products, to stop you wasting money testing based products.
They collect latest trending data from over 200,000 stores and 65 million products to create a platform that currently boasts 1200 potential winning products.
Membership starts at $12.95 per month and includes access to new products daily, as well as last weeks best sellers, title and images, as well as ready ad text and targeted audiences.
A premium plan is $19.95 per month and includes ready viral video ads, and tutoirals from experts. You can save 50% off by purchasing a yearly subscription.
22. All Factor
All Factor is one of the most powerful e-Commerce competitive analytics platform that allows you to spy on competitors, view hot new trends, gain insights into stores and optimize your own products to get a competitive advantage.
They offer a free plan to test out their platform with the premium version costing $29 per user per month for unlimited data and product access. A $199 per month plan offers API access, enterprise reporting and an advanced dashboard.
Additionally they offer marketplace, shop, funnel and supply chain data. I have to admit it's one of the more impressive membership platforms for winning product research.
All Factor is a great platform for eCommerce sellers, retail marketers and anyone needing product research insights and trending data.
Their platform is based on an intelligent analytics platform that combined Shopify, Amazon and Etsy into one interface.
This offers real time data, deeper insights, broader views and more opportunities across multiple channels. Definitely worth a test, if you want the latest and greatest.
23. Dropship-Spy

Dropship-Spy was originally a curation of winning products and most were pretty poor. The platform now claims to have come a long way and offers a collection of tools including winning products, store spy, promising products, one click import, influencer search, reviews downloader, requests, product spy, FB engagement calculators and audience builders.
It sounds like Dropship-Spy wants to incorporate all the tools of all the other sites featured on this article and combine it into one tool.
The price is currently $20/mo for their best plan.
24. WinMixo
WinMixo offers a simple website that displays handpicked dropshipping products chosen by experts. They claim all their products are unsaturated and up to 100 are posted daily.
They offer a free service where you can view a 7 day delay on products. You're invited to signup for free to see daily new products.
At the time of going to print it's free, and they have a Shopify app with over 149 positive reviews.
You can add the Aliexpress products they recommend with one click, before editing it on your own store. You'll get information about products such as categories, profit margin, analytics, reviews, Youtube video links, audience sizes, social media stats and more.
I'm not sure how they make money, but I imagine they are Aliexpress affiliates and are injecting their cookie into products you fulfil through their app.
25. Find Niche
Find Niche allows you to find and analyze popular and winning products across Aliexpress. You can look at high margin niches, trending stores, new competitors and other competitors.
At the time of writing this article there's over 1,000,000 products across 11,000 niches and 700,000 stores. By analyzing big data and regular updates they offer a huge database.
You can filter by up to 20 different methods, allowing to pick winning and top secret products.
There is two plans, starter and pro plan but both are currently free if you invite a friend. The free plan offers limited search count and filtering, whereas the pro plan (usually $99) offers unlimited options as well as online support.
26. Shop Inspect
Shop Inspect helps you to find viral Shopify products fast while earning more profit. You can find hot new trending products using Machine Learning and Artificial Intelligence.
They offer a free plan which anyone can signup for, as well as a premium plan which costs $16 per month (paid annually) or $19 per month (paid annually).
They offer 10 searches per day on the standard plan and 250 searched per day on the legendary plan, so for the extra $3 per month it makes sense to choose the bigger plan.
Their platform allows you to find new products, as well as use their AdInspect tool for finding ads on Facebook and Instagram based on brand or keyword.
Additionally you can search over 800,000 Shopify stores to find new best selling products, and how they are getting traffic. Plus dissect their social media profiles.
27. Droppoint
Droppoint is a simple easy to use platform that finds winning products by looking and caching successful Facebook ads.
You can view around 50-100 for free, before you're invited to create an account with a low monthly fee of only $5. This allows you to view all the ads they've caught.
They show you the ads based on last seen, most views, most liked, most comments, most shared as well as the ability to search by keyword, country, store name and trends.
After using the platform for a while I was impressed. They don't just have eCommerce products, so you can see what services, courses and offers are converting well too.
While they don't show you how or where to find the exact or similar producs, you can see which ads are working well and replicate something similar in your own business.
Verdict
Now you know the best tools to find winning products to sell on your store, the question really is, which one are you going to test out?
I'd love to know your comments so let me know below if you have any other recommendations. Plus if you've got another platform we might have missed, do let us know below.
Our #1 recommendation is Sell The Trend (Read Full Review).

Rhys is the owner and chief editor at Im Rhys and is living in Chisinau, Moldova. With over 15 years experience in eCommerce and Affiliate Marketing he has started many successful 6 and 7 figure businesses. After successes with USA and China dropshipping, he expanded into building 70+ micro affiliate websites in 30 different niches that generate money on autopilot. He now helps his wife to run her social media agency as well as travelling the world at every opportunity.